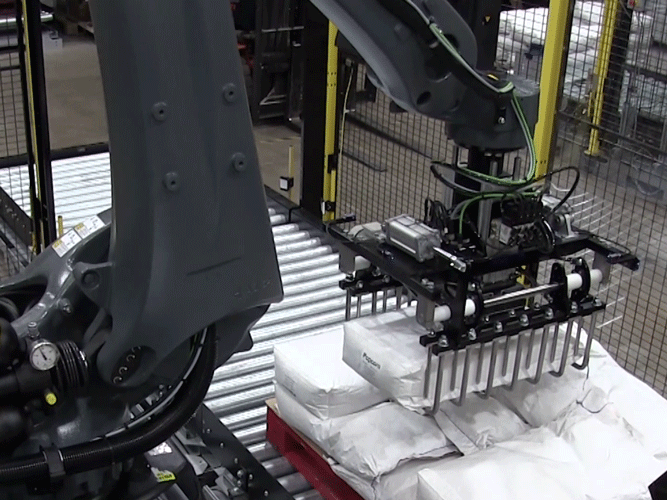 What is a Palletiser?
Palletiser is a term used in the machinery automation industry to describe an automated machine or system that stacks product onto pallets.
There are many different types of palletising systems available on the market from basic box and carton palletisers, through to bag palletisers, barrel palletisers and mixed case palletising. They all have some sort of robotic system that is programmed to pick the incoming product off a production line and place it onto pallets.
Some systems form the product into layers than place whole layers on to pallets, other pick products individually and place them onto pallets. There are many different considerations for specifying a palletiser such as; production speed, range of product types and sizes, weight of products, type of packaging, what type of gripper is needed, etc.
The entry level robotic palletisers are often a basic two station system where the robot has two pallet stacking positions so it can stack these two pallets, and then a member of staff can remove the stacked pallets with a forklift through a safety light curtain or by opening a safety gate. The advanced systems have multiple lanes and automatic pallet feeding. Automatic pallet feeding means that the production can keep running continuously as the pallets will move through the system on conveyors and the stacked pallets will be automatically moved to outside the safety area ready for forklift operators to remove the pallets.
Programming of palletisers is a very important part of the system, often robotic palletisers required skilled robot programming engineers to set them up. The most advanced systems have completely automatic programming where you simply build a 3D model of your pallet using simple user-friendly software and then the system programmes itself (e.g. GA15 series robotic palletiser). The advantage of this advanced software is that you keep control of your system in house and it reduces the cost of expensive robot programmers every time you need to change your palletising layout due to a new product.
Watch this video to see a palletiser with advanced programming software.
Granta usually recommend the GA15 series palletising system which is a modular robotic palletising system. Being modular it can be easily adapted for almost any palletising application and it is easy to add extras such as; slip sheets, pallet feeding, stretch wrapping, barcode reading, label application and other bespoke modules. The GA15 series palletiser also has advanced easy programming software which enables you to design your stack pattern in 3D then it automatically programs the robot.
If you unsure if a palletiser is right for you at the moment, Granta also offer a free trial for you with your product, simply ship a pallet to us and we will run a demonstration for you.
Contact us for help with your project
Find out more…
Watch videos…