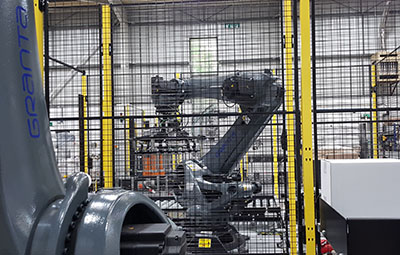 ROBOTIC PALLETISING AND END OF LINE AUTOMATION is one of Granta's key strengths. We are so confident that our robotic palletising system will be what you need that we are offering a FREE trial - bring your product along to our site to try on our palletising system. Contact us on 01223 499488 or helpline@granta-automation.co.uk to book.
As you would expect with Granta, our Robotic palletising and end of line automation systems are high quality and have been designed to be quick to install and easily modified. They are also quick and easy to program which gives you the flexibility you need within your production to modify things as your products and production processes change.
Robotic palletising and end of line automation systems are well known for their ability to eliminate the risk of RSI that is so prevelant in end of line packing processes. End of line automation can be used for virtually any application; from simply palletising sacks and boxes through to a completely automated palletising, wrapping and pallet labelling process.
As well as reducing the risk of RSI, robotic palletising and end of line automation also has the ability to increase machine throughput as you are no longer dependant on the end of line operator to determine the throughput capacity of your machine - with automation this constraint is removed. With a fully automated end of line system, your machinery can run consistently as it doesn't have to be shut down whilst the end of line operator takes breaks. This alone will increase the throughput capacity of the machine which in turn increase the profit on your bottom line.
Use our quick automation payback calculator to find out the ROI on installation of a robotic palletising and end of line automation system. We believe you will be pleasantly surprised!
Find out more...
Robotic Bag Palletising System