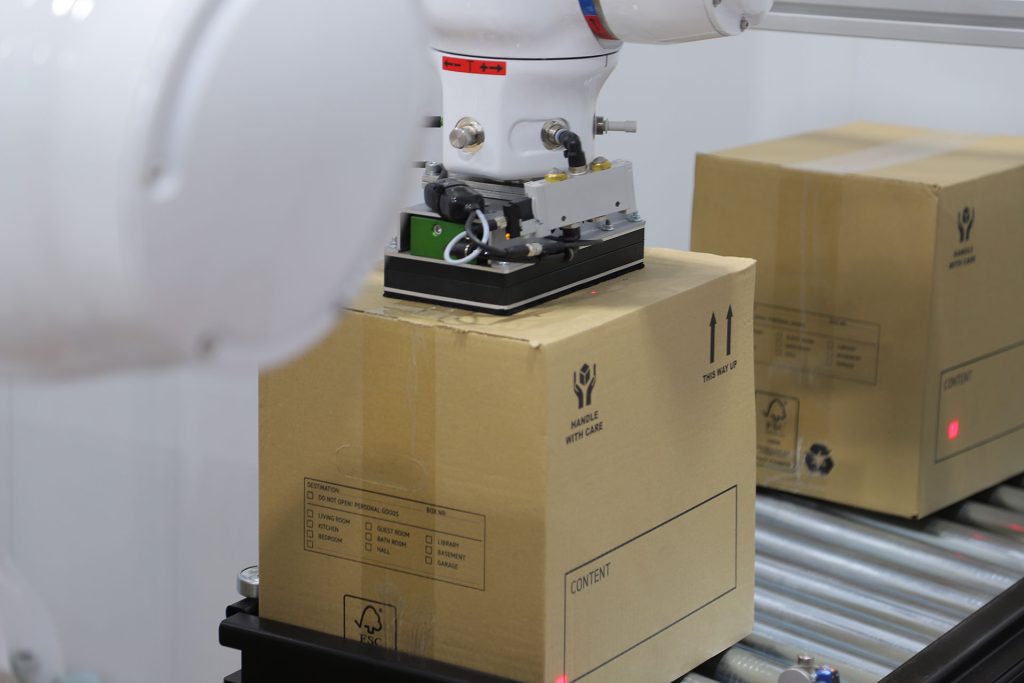 When selecting a collaborative robot (cobot) palletiser for your application, there are several key points to consider to ensure that the chosen solution meets your specific needs and integrates well into your workflow. Here are some important factors to take into account:
Payload and Reach:

Ensure that the cobot has the required payload capacity to handle the weight of your products and packaging materials. It is important to establish what payload the cobot has as the advertised payload typically doesn't include the weight of the gripper. Therefore, weight that can be lifted by the cobot is usually; advertised payload – weight of gripper = product weight that can be lifted.
Consider the reach of the cobot to ensure it can effectively cover the entire palletising area. Due to the nature of a cobot palletiser, their reach isn't as versatile as an industrial palletiser, so this is something that needs to be taken into account along with the product size to ensure that a cobot will be able to palletise product to the required pallet stack height.

 Cobot Robustness and Durability:

Check the type of cobot that is being used in the system. A lot of the smaller cobots have a bit of flex in them which reduces their accuracy. They are also typically working at the limits of their motor torque. The more reliable cobots are based on an industrial robot with intelligent force monitoring. This type of cobot is safer because it is more precise on force measurement, with AI force monitoring, and being an industrial robot they are more robust. Like an industrial robot, this type of cobot is designed to work 24/7 for 10 years +.

End-of-Arm Tooling (EOAT) or Gripper:

Evaluate the available end-of-arm tooling options for palletising. The tooling should be designed to handle the specific characteristics of your products, such as size, shape, and weight. Typically a cobot will use some form of a vacuum gripper, and depending on the cobot you choose, it may also be able to row grip, which increases the palletising speeds.

Programming and Ease of Use:

Assess the ease of programming the cobot. Look for user-friendly interfaces and programming methods, especially if your team doesn't have extensive programming experience. Cobots with a well-designed easy programming software will be able to be reprogrammed by your staff within minutes once they have received initial training.

Safety Features:

Cobots are designed to work alongside humans, so safety features are crucial. Look for features such as force and torque sensing, collision detection, and the ability to set up safety zones to prevent collisions with human workers. Some cobot cells also have additional safety added which allows them to run at industrial speeds, and then slow to collaborative speeds if the additional safety zone gets broken by someone walking into the cell. This enables you to palletise at higher speeds than just a collaborative robot.

Integration with Existing Systems:

Ensure that the cobot can easily integrate into your existing production line and communicate with other machines or systems. Compatibility with common communication protocols is essential.

Flexibility and Adaptability:

Consider the cobot's ability to handle different product sizes and packaging configurations. A flexible cobot can adapt to changes in production requirements more easily. Key features of a cobot palletising system that allow them to be flexible are: a good reach, a high payload and easy programming software.

Speed and Throughput:

Evaluate the cobot's speed and throughput capabilities to ensure that it can meet your production demands. This includes considering the cycle time for palletising each unit. Cobot systems that can row grip, and switch between industrial and cobot palletising modes will have the fastest cycle time.

Cost of Ownership:

Look beyond the initial purchase price and consider the overall cost of ownership. This includes maintenance costs, training expenses, and any potential costs associated with system downtime. Usually, the supplier will offer initial training on the system free of charge at the time of installation.
Look into leasing options as this may make the system a more viable for you than having to make a large capital outlay. Typically, cobot palletising systems can be leased at less than the minimum wage per month which makes them a very attractive solution.

Scalability:

Consider whether the cobot palletiser can scale with your business as production volumes increase. A scalable solution allows for easy expansion or modification of the system. It is also worth choosing a system that can be easily moved to a new location should you require it in the future.

Support and Service:

Assess the availability of customer support and service from the cobot manufacturer or distributor. Reliable support is crucial for troubleshooting, maintenance, and addressing any issues that may arise. Often an initial support contract scheme will be included when you purchase a cobot palletiser.

User Reviews and References:

Research and seek user reviews from companies that have implemented the same or similar cobot palletisers. This can provide valuable insights into real-world performance and user experiences.
By carefully considering these factors, you can select a cobot palletiser that aligns with your production requirements and seamlessly integrates into your workflow.
Watch a cobot palletsier in action… 
Click here for more information and budget pricing on the Granta cobot system, or contact us on 01223 499488 or helpline@granta-automation.co.uk.