What Palletising System Do You Need?
There are two key areas in which the GA15 palletising system is usually used; end of line palletising, and container unloading and palletising.
However, as you browse through the categories below, remember that not every configuration of the system is shown here, so if you can't find the right solution for you then please do contact us on 01223 499488 or helpline@granta-automation.co.uk and we will be able to help you.
Alternatively, if you know what you are looking for, then why not try our Palletiser Quote Builder for instant pricing.
We look forward to working with you!
<!—ICON1-->
Production Increase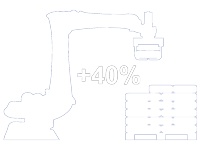 Typically +40% due to: no holidays or breaks, forced takt time, longer working hours, faster speeds…
<!—ICON2-->
Payback Is often less than 1 year due to labour saving, production increase, reduced HR.
<!—ICON3-->
H&S Claims Reduced to 0 as all manual handing is now done by machine.
<!—ICON4-->
Other Benefits
Be ahead of competition, impress customers, reduce errors, improve stack quality, boost staff morale….
<!—END DIVS-->
<!—END OF ICON BAR-->
Robotic Palletising
Why is this the best palletising system on the market?
Very fast and easy to program; no specialist programming skills needed
Automatic stack generation; infinite variety of product, pallet and stack configurations available at the touch of a button
Great price; best value on the market
Quick to install; only one day for mechanical install
Short lead times; as quick as1-2 weeks
Modular; complete system can be quickly and easily moved or re-configured
Free trial; send us some sample product and watch the system working with your products
>> Click here for more information
Layer Forming Palletiser
For high speed applications, a layer former is usually used to enable the required speeds to be achieved. Product is orientated as it comes along a conveyor and is then pushed in rows onto a table to form a layer. The complete layer is then lifted and placed onto the pallet stack.
One of the key benefits of the GA15 layer forming palletiser system is the fact it can be quickly and easily reprogrammed by your staff for different size products.
>> Click here for more information
Depalletising & Cross Stacking
&nbsp
The GA15 depalletising and cross stacking system makes light work of destacking pallets!
There are two key areas in which this system is usually used:
Depalletising onto a production line
Pallet to pallet transfers
>> Click here for more information
Ancillary Products for GA15 Palletiser
There are many different ancillary products available for the GA15 palletising system.
>> Click here for more information