Welcome to Granta Automation
We are at the cutting edge of the automated palletising industry, ready to help you achieve with automation.
From end of line palletising systems through to automated container unloading systems, we're ready to help. Our GA15 Palletising system has been designed with the needs of the industry in mind and offers great flexibility. We are so confident it will meet your requirements that we're offering you a free, no obligation trial, simply contact us on 01223 499488 or helpline@granta-automation.co.uk to book.
Watch this short video clip showing some of the many products that can be automatically palletised using the GA15 palletising system.
Achieve new successes, jump ahead of your competition and stay at the cutting edge of your industry. Browse our website or contact us today for help, advice and support with your project.
We look forward to hearing from you!
<!—ICON1-->
Production Increase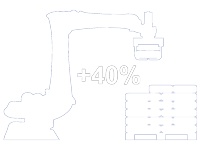 Typically +40% due to: no holidays or breaks, forced takt time, longer working hours, faster speeds…
<!—ICON2-->
Payback Is often less than 1 year due to labour saving, production increase, reduced HR.
<!—ICON3-->
H&S Claims Reduced to 0 as all manual handing is now done by machine.
<!—ICON4-->
Other Benefits
Be ahead of competition, impress customers, reduce errors, improve stack quality, boost staff morale….
<!—END DIVS-->
<!—END OF ICON BAR-->
GA15 Palletising System
Why is this the best palletising system on the market?
Very fast and easy to program; no specialist programming skills needed
Automatic stack generation; infinite variety of product, pallet and stack configurations available at the touch of a button
Great price; best value on the market
Quick to install; only one day for mechanical install
Short lead times; as quick as 1-2 weeks
Modular; complete system can be quickly and easily moved or re-configured
Free trial; send us some sample product and watch the system working with your products
>> Click here for more information
Free Palletiser Trial
We are so confident that our GA15 palletising system will meet your requirements that we're offering you a free, no obligation trial.
>> Click here for more information
Support Contract
The Granta support contract scheme is a second level of security for you. All of our automation projects are built to a high quality standard and this support contract system has been designed to give you complete peace of mind and to ensure that technical support and help is readily available for you should you need it.
>> Click here for more information
FREE Robotics and Automation Resource Pack
Download your own toolkit for assessing the impact of automation on your process.
This pack contains some helpful calculators and interesting articles relating to automation that will help you to understand how robotics and automation will affect your process.
>> Click here for more information
Would You Like A Site Visit?
To ensure that your palletising solution will meet your requirements it is always beneficial to have a site visit to look at the specific application. Use the link below to choose a time and date for us to visit your site.
>> Click here to book a site visit
Keep Up To Date With The Latest Automation News
Watch automation videos…