How Will Robotic Palletising Work For You?
The videos below will give a brief overview of the Granta GA15 palletising system. Browsing through this gallery will also show you some of the many different applications in which automated palletising can be used.
Whilst there are several different applications shown here, there are many more applications available. Please do contact us for further information on your specific application.
<!—ICON1-->
Production Increase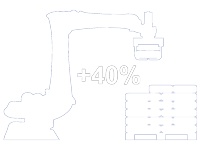 Typically +40% due to: no holidays or breaks, forced takt time, longer working hours, faster speeds…
<!—ICON2-->
Payback Is often less than 1 year due to labour saving, production increase, reduced HR.
<!—ICON3-->
H&S Claims Reduced to 0 as all manual handing is now done by machine.
<!—ICON4-->
Other Benefits
Be ahead of competition, impress customers, reduce errors, improve stack quality, boost staff morale….
<!—END DIVS-->
<!—END OF ICON BAR-->
GA15 Box Palletiser
GA15 Bag Palletiser
Slip Sheet Placing and Row Gripping Palletiser
Bottle Palletiser
High Level Row Gripping Palletiser
Multi Line Multi Box Palletiser
GA15 Row Grip Box Palletiser
GA15 Tray Palletiser
GA15 Carton Palletiser
GA15 Sack Palletiser
GA15 Easy Programming Software
 >
Automated Container Unloading
 >
The Key to Prosperity and Better Standards of Living
 >