Depalletising & Cross Stacking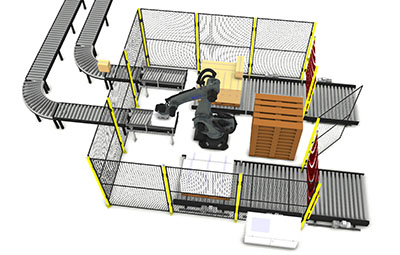 GA15 Depalletising & Cross Stacking System
The GA15 pallet to pallet transfer system is quick to install, low cost and fast and easy to program. Making light work of depalletising and cross stacking!
There are two key areas in which depalletising is usually used; to destack product onto a production line, or to cross stack from Euro pallets to standard pallets to fit the UK distribution network and pallet storage systems.
With the GA15 depalletising and cross stacking system, the robot gripper picks individual boxes off the pallet and then places them onto a production line, or another pallet in a different stack configuration. If the incoming pallet stacks are wobbly or have moved in transit, than an intervening process can be added to the system to align the boxes and ensure the new stack is neat and square.
The GA15 pallet to pallet transfer system also has easy programming software that enables your factory floor staff to re-program the robot for transferring different sizes of product within minutes.
Achieve new successes, jump ahead of your competition and stay at the cutting edge of your industry. Browse our website or contact us today for help, advice and support with your project.
We look forward to helping you achieve with automation!
<!—ICON1-->
Production Increase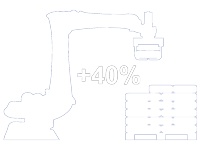 Typically +40% due to: no holidays or breaks, forced takt time, longer working hours, faster speeds…
<!—ICON2-->
Payback Is often less than 1 year due to labour saving, production increase, reduced HR.
<!—ICON3-->
H&S Claims
Reduced to 0 as all manual handing is now done by machine.
<!—ICON4-->
Other Benefits
Be ahead of competition, impress customers, reduce errors, improve stack quality, boost staff morale….
<!—END DIVS-->
<!—END OF ICON BAR-->
How Does It Work? - Physical
There are a wide variety of standard modular platform options available in the GA15 Palletiser Series range, with different products on each platform e.g. robot, different types of conveyors, pallet and slip sheet guides etc. Bespoke platform options are also available.
The system can quickly and easily be re-configured, moved or have extra parts added or taken away.
>> Click here for more information
How Does It Work? – Programming
The advanced programming software for this system enables quick and easy configuration and programming for any layout of system.
>> Click here for more information
Benefits - Modular
There are many benefits to the GA15 Palletiser modular system including; quick install, easily modified, aesthetically pleasing, reduced cost, easily integrated…
>> Click here for more information
Benefits – Easy Programming
The Granta GA15 Palletiser specialist programming system has been developed to make it very simple to reprogram the system very quickly.
>> Click here for more information
Free Palletiser Trial
We are so confident that our GA15 palletising system will meet your requirements that we're offering you a free, no obligation trial.
>> Click here for more information
Best Value On The Market
The GA15 Palletising System is the best value on the market.
>> Click here for more information
Support Contract
The Granta support contract scheme is a second level of security for you. The GA15 Palletiser Series is built to a high quality standard and this support contract system has been designed to give you complete peace of mind and to ensure that technical support and help is readily available for you should you need it.
>> Click here for more information