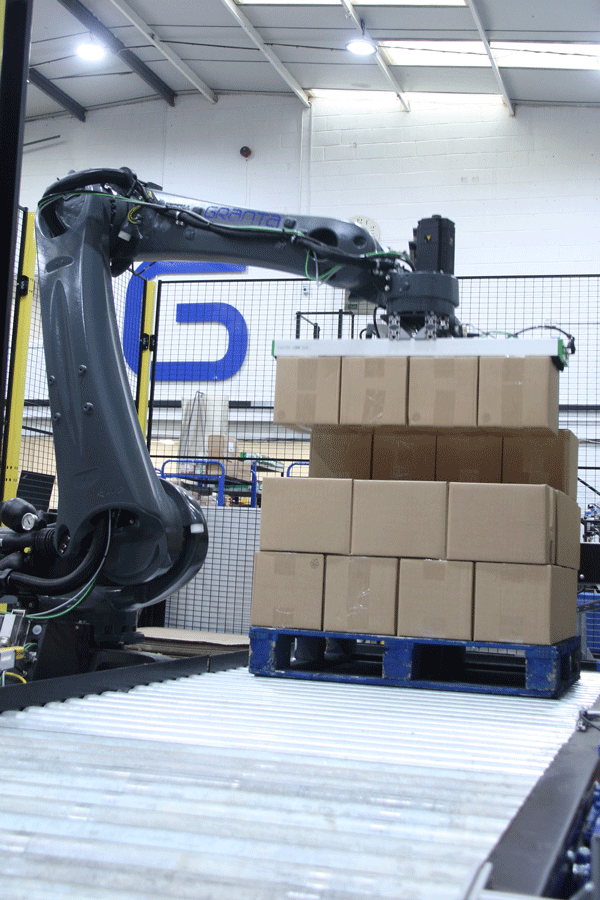 With space being at a premium in many manufacturing facilities, automated palletising systems have often been unviable in the past due to space constraints. This has meant that goods have had to continue to be palletised manually, along with all the associated manual handling risks.
However, with the introduction of Cobot palletisers, smaller automated palletising systems are now becoming more viable for production facilities with limited space. These systems have their place where you are palletising lightweight products at modest speeds. Typically they will be able to palletise boxes or bags onto two pallet positions, and some, but not all Cobot palletising systems will also be able to handle euro and standard pallet sizes.
Whilst the compactness of a Cobot palletising system allows for automated palletising in areas of limited space, they do still have their constraints. If the system can't run as fast as your production process can run, then introducing a Cobot palletiser will become a bottleneck to your production throughput. Cobot palletisers are also unable to palletise products when an underneath gripper is required due to the fact that the weight of an underneath gripper is usually more than the weight the Cobot can lift. Also, slipsheets cannot be used with a Cobot palletiser cell as the system is unable to pick and place them.
To meet this need, Granta have developed a small footprint palletising cell that is capable of running at faster speeds and higher payloads. The Granta small footprint robotic palletising cell is typically a KUKA 5 axis palletising robot with 120kg payload. This enables it to palletise higher payloads, and at faster speeds. The cell is customised to suit your requirements, but would usually have two pallet stack positions and an input conveyor. As the cell is modular if allows for flexibility in the layout and shape of the cell, it also enables to you change the modules, or add to the system should your requirements change in the future. This helps to ensure that your investment is future proof as well as meeting your current production and space needs.
With the Granta palletising system a wider variety of products can be palletised as an underneath gripper, bag gripper or vacuum gripper can be specified. This variety of gripper options enables the system to palletise boxes, display boxes, bags, trays, bottles, sacks, drums, open top crates, shrink wrapped items, cans, etc. If a standard gripper design will not work for your product, a bespoke gripper can be manufactured to suit your requirements.
The cell has easy programming software which makes it very simple for anyone to reprogram in minutes. Operators can use the easy-to-use visual software to program the system for different product sizes, pallet sizes and stack patterns. Stack patterns are optimised and you can then choose the stack pattern that suits your requirements. This video shows how quick and easy it is to reprogram the palletiser for different product sizes.
The system can also be used to simultaneously palletise different types of product off multiple production lines. This reduces any capital expenditure requirements, as instead of having to purchase multiple palletising systems, only one system will be required.
One of the best ways to ensure that the robotic palletising system you choose is able to meet your requirements is to trial your product on the proposed solution. This will enable you to see if the system is indeed able to handle your product successfully and at the speeds required. You will also be able to see how neatly the finished pallet is stacked.
We currently offer a free, no obligation palletiser trial service. If you would like to take advantage of this, Click here to book, or contact us on 01223 499488.
If you would like to discuss your palletising application, then feel free to get in touch with us on 01223 499488 or helpline@granta-automation.co.uk and we will be very happy to help.
Contact us for help with your project
Find out more…
Watch videos…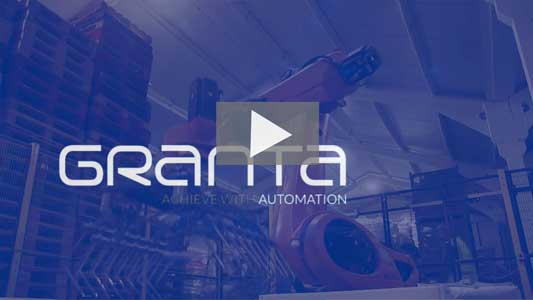 Palletiser application examples…