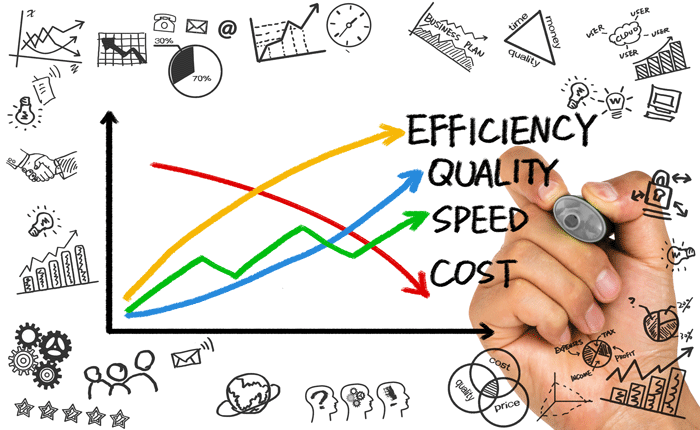 This is a question that is well worth answering before you commit to investing capital in an automated palletising solution.

Here are some of the efficiency increases that some of our customers have experienced after installation of an automated palletising system:
Distribution Centre – automated container unloading and box palletising system installed at a leading supermarket brand. This is saving them a minimum of 119 man hours per week.
Chemical Factory – 25kg bag palletising system installed which has resulted in improved efficiencies and improved stack quality, resulting in a reduction in the number of pallets required.
Food Factory – palletising system for 25Kg sacks installed which has resulted in an increased production throughput of 150%. It has also reduced labour requirements by 1 person.
Refractory Specialist – bag palletising system installed which has resulted in operator requirements being reduced from 2 persons to 1 person. Production throughput is up by 45% and all manual handling elements have been removed.
However, as each application is different, the efficiency increases you may achieve will likely be different to someone else, so we have outlined some of the more common efficiency increases below.


Production Throughput Increase
With an automated palletising system, your palletising process will not have to stop when staff have breaks, fill out paperwork, move goods, etc. Therefore, if your production process is automated and can run without any manual input, your production output will increase with an automated palletising system. Ie, if during an 8 hour shift your production stops for an average of 1 hour due to breaks, forklift movements, etc, your production output will increase by 14% with an automated palletising system.
Improved OEE
In some production processes, the main production line is not able to be run at full capacity as those palletising the product are not able to keep up with these speeds. An automated palletising system can be designed to pick and palletise layers, or rows of product, onto the pallet to improve the palletising speeds. This then allows you to run your production process at full capacity and thus increase your output and OEE.
Reduction in Labour Requirements
With an automated palletising system, it is possible for one system to simultaneously palletise different types of product off multiple lines. This can increase you efficiencies dramatically, especially if you currently have more than one member of staff palletising the product off the various lines. Personnel that are no longer required in the palletising department can be redeployed elsewhere within the company.
Reduction In Downtime
With a manual palletising system you always run the risk of downtime due to staff being off sick or on holiday etc. With an automated system this risk is removed, and makes your production process far more predictable and controllable, thus reducing your downtime and increasing your efficiencies.
Reduction In Defects
Resolving issues related to goods damaged in transit can be costly and time consuming. An automated palletising system will consistently palletise product to the same standard, and therefore reduce the risk of goods being damaged in transit. This will not only remove the need to spend time sorting damaged goods issues, but will also help with customer retention.
Improved Working Conditions
Automating the palletising process improves working conditions and removes the risk of your workers suffering from repetitive strain injuries. This helps to create a safer working environment for your workers and can improve staff morale as they are redeployed to work in other areas of the company.

These are just some of the efficiency increase that you may experience with an automated palletising system. However, depending on your production process, there will likely be other efficiency increase that you will see as a result of installing an automated palletising system.
To help with giving a value to these predicted efficiency increases, we have created a couple of free downloadable calculators:
You may also find our project builder tool very useful for getting a quick budget quote on an automated palletising system. https://www.granta-automation.co.uk/project-builder
If you would like to discuss your palletising application, then feel free to get in touch with us on 01223 499488 or helpline@granta-automation.co.uk and we will be very happy to help.