Have you heard of the Manufacturing Purchasing Managers' Index (PMI) before? Do you know what it means for you?
The Manufacturing PMI is a diffusion index that includes responses to questionnaires that have been collected from approximately 650 manufacturing firms throughout the UK, and results are published monthly. A PMI reading above fifty suggests that the manufacturing sector is expanding whereas a reading below fifty suggest that the manufacturing sector is in contraction. The purpose of the Manufacturing PMI is to provide information regarding the current and future business conditions to decision makers, analysis and investors.
Since January, the PMI index has been on the rise, and the results for May showed new orders had risen at the quickest pace in about three decades.  According to Trading Economics, the results of the May survey also showed that business sentiment has risen to its highest level on record amid improved optimism. Below is a snapshot from the Trading Economics PMI graph for the last 25 years which shows that May was the highest recorded PMI figure in the last 25 years!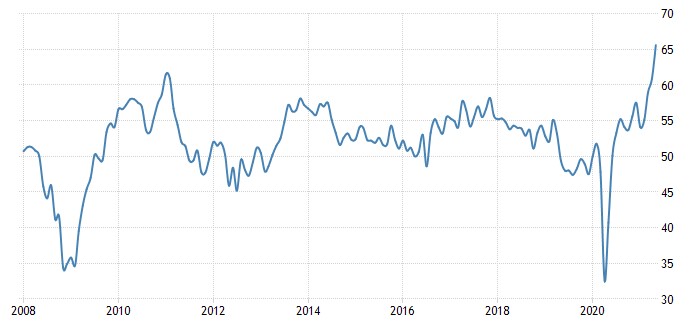 So what does this mean for the manufacturing sector?  The manufacturing PMI is a good indicator of the buoyancy of the UK manufacturing sector.
A high manufacturing PMI is a prediction that there will be a requirement for more manufacturing to be completed in the UK. As a result this is likely to lead to an improved output for many manufacturing companies.
In a buoyant manufacturing market, the demand for production staff usually rises, and this is then reflected in the fact that it becomes difficult to find additional production staff to employ to help you meet your production requirements.  When there is a shortage of production labour, this also often leads to a rise in wage requirements as there are not enough candidates to fill the job vacancies and they can then demand a higher wage. Recently we have found that several of our customers have been struggling to recruit production staff and have turned to automating their processes to remove the requirement for additional staff.
One of the key production activities that can be automated to remove manual labour requirements is palletising of products. One palletiser can be used to palletise off multiple lines and often removes the need for several production workers, allowing you to redeploy your current staff elsewhere in your production process.
To find out more about the GA15 palletiser series and how it could be of benefit to your business, contact us on 01223 499488 or helpline@granta-automation.co.uk.
Contact us for help with your project
Find out more…
Watch videos…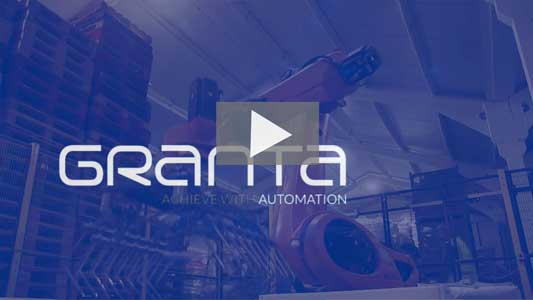 Palletiser application examples…