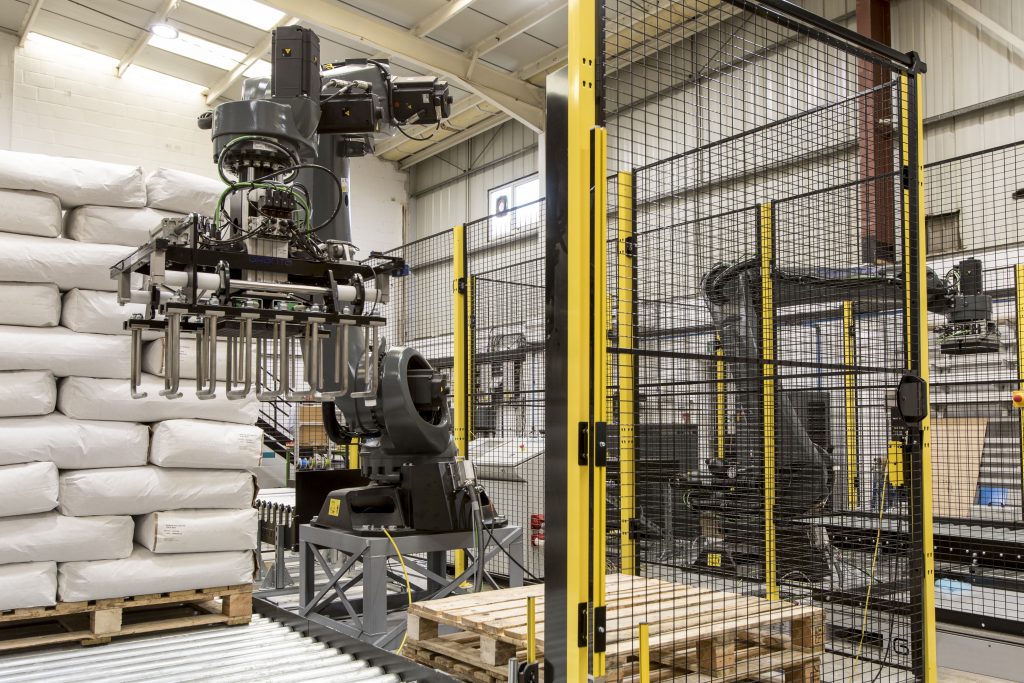 Automated palletising holds many different benefits, some commonly known, and others not so commonly known.  Some of the more important benefits are explained in detail below.
Improved Productivity/Cost Savings
This is often one of the most overlooked benefits of automated palletising.
Manual palletising has many drawbacks when it comes to productivity.  There can be many different reasons for this, but the two key reasons are:
Staff not able to keep up with palletising when the production process is running at full capacity, and as a result the production process is not run at full capacity.
Production stops when staff stop for breaks, forklift movements, to fill our paperwork etc.
Automated palletising systems not only remove these issues and enable your production process to function at full capacity, but also have additional benefits as well. Below are some stats we have received from some of our most recent palletiser installations:
Distribution Centre – automated container unloading and box palletising system installed at a leading supermarket brand. This is saving them a minimum of 119 man hours per week.
Chemical Factory – 25kg bag palletising system installed which has resulted in improved efficiencies and improved stack quality, resulting in a reduction in the number of pallets required.
Food Factory – palletising system for 25Kg sacks installed which has resulted in an increased production throughput of 150%. It has also reduced labour requirements by 1 person.
Refractory Specialist – bag palletising system installed which has resulted in operator requirements being reduced from 2 persons to 1 person. Production throughput is up by 45% and all manual handling elements have been removed.
Removes Risk of RSI
Manually stacking pallets carries a high risk of RSI occurring, this is due to the high level of repetitive activity that is carried out when stacking a pallet. Download this simple RSI calculator to see what risk your current manual stacking process carries.
Automation of your pallet stacking process completely eliminates the need for any manual input at all, thus removing the risk of RSI. The recent introduction of automated palletising systems that can be quickly and easily re-programmed for different sized items, has also meant that automated palletising can now be used in a far larger variety of situations than it could before.
Improved Product Quality
When pallets are manually stacked, this can often result in inconsistent and unstable pallet stacks.  Storing and shipping of unstable pallet stacks can ultimately result in pallets breaking down and causing damage to goods.  This clearly has implications and can result in unhappy customers, returns and refunds and additional admin time having to be spent in resolving these issues.
However, when a pallet is stacked using an automated system, product is consistently placed in the correct place, according to the chosen stack pattern, which results in stable and consistently palletised stacks.  This not only helps prevent damage during storage and transit, but can also help with stock control as you know your pallets will all be consistently stacked with the same quantity of product.
Removes Labour Crisis
It is becoming increasingly difficult to source staff that are happy to stack pallets. This is no doubt due to the repetitive and labour intensive nature of the job. Using manual labour to stack pallets also mean that you have to find alternative labour if your staff are off sick or on holiday, which carries with it additional costs.
An automated system will remove this requirement altogether as the system will continue to function through lunches, breaks and holidays!
Eliminates Bottlenecks
The palletising part of a production process can sometimes be the bottleneck of your whole production process. If those palletising are not able to palletise at the maximum speed that your production process can run, then you have no option but to run your production process slower than its optimum speed.  This effectively equates to lost production time. If you are unsure where the bottleneck is in your production process, this article should help you in identifying it.
Chosen wisely, an automated palletising system will have the capacity to palletise product coming off your production line, with the line running at maximum capacity.  In some instances, an automated system will in fact be able to palletise off two production lines at the same time, whilst they are both running at maximum capacity.
These are just some of the many different benefits that automated palletising can bring. To find out more about palletising for your production process, or to book a free trial, contact us on 01223 499488 and we will be very happy to help.