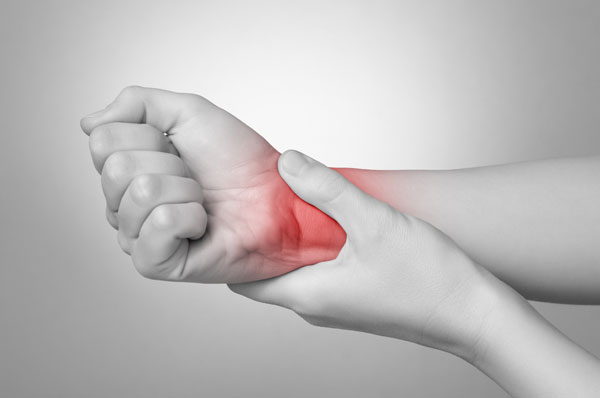 First of all, let's look at what causes repetitive strain injuries to happen.
Repetitive strain injury (RSI) can be caused by:
Repetitive movements made with the upper body that result in the overuse of muscles and tendons.
Long shifts of repetitive manual labour with little or no breaks
Working in an awkward position
All employers have a legal duty to try and prevent repetitive strain injuries from happening, and to ensure that anyone that already has the condition doesn't get any worse.  This means that it is very important to identify areas where tasks are being carried out that could cause RSI, and to risk assess these tasks and implement the necessary precautions to minimise the risk of RSI.
Click here to download your repetitive strain injury risk assessment form.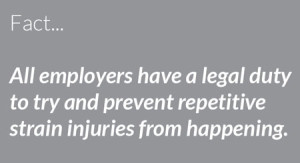 Having carried out a risk assessment, it is then possible to identify which movements are creating the highest risk of RSI for your worker.  Having identified this, it will then be possible to implement methods or systems to minimise or eliminate the risk.
Reducing RSI risks can often be as simple as altering the workers working position or shift pattern to enable them to work in a less awkward position and to take the necessary breaks from the task.  Other times it may be necessary to look at automating some of the process to reduce strain on the worker.  Automation may be something as simple as a hand operated tool that reduces the need for the worker to apply repetitive force or it may be something larger such as an automated palletising system that eliminates the need for a human to perform the task.
As with anything, identifying the risks of repetitive strain injury is the first step to finding a solution.  Our quick, downloadable, repetitive strain injury assessment calculator will give you a basic idea of where you are likely to get RSI in your process.
Once you have identified the risks, it is important it minimise or eliminate RSI risk areas by making simple changes to create a better environment for your worker.  If you are unable to minimise risks by doing this, then think about automating some, or all of the work, because as an employer you have a legal duty to try and prevent repetitive strain injury.  If you are unsure whether any of your process can be automated, contact us on 01223 499488 and we will be happy to talk through your process with you and to identify areas where you may be able to automate the process.

Find out more…
Watch videos…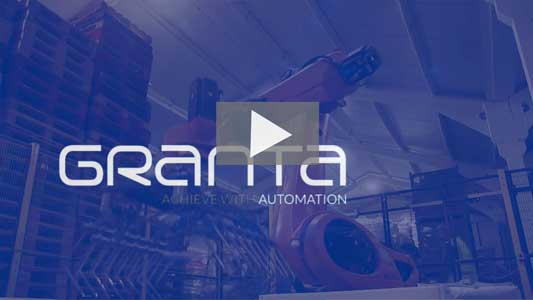 Palletiser application examples…