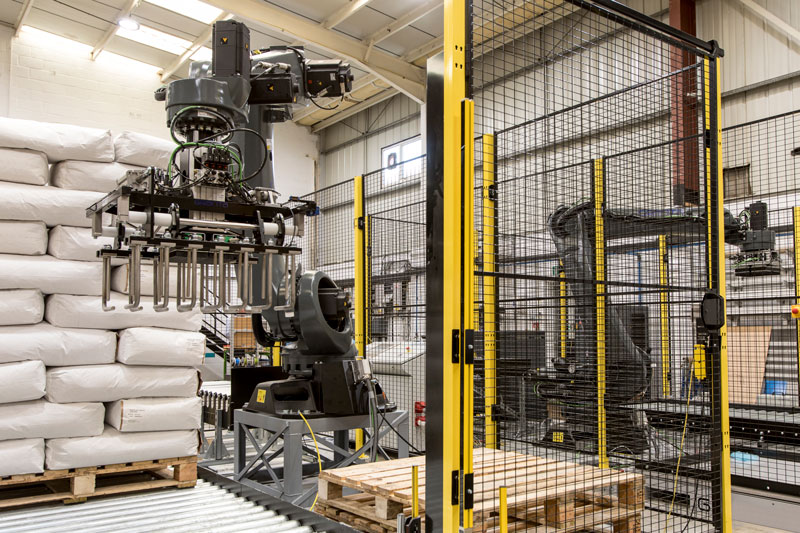 Many people underestimate the benefits of automated palletising. This article gives you some information on the hidden wins, and what to consider when buying an automated palletising system.
Traditionally palletising of bags and sacks was done by hand. However, this has many drawbacks including production downtime due to staff breaks, and the high risk of repetitive strain injuries occurring. The subsequent implications of staff having to be off work for long periods of time due to repetitive strain injuries and the cost of any resulting claims can quickly add up. Palletising by hand can also limit throughput capacity and become a bottleneck in your production process.
The Hidden Winner
Most companies can justify automated palletising on labour savings alone, but they are usually surprised by the hidden winner that brings significantly more benefit.
The hidden winner is this: simply installing a palletiser typically increases production throughput of the whole production line to at least 140%!
You may have dedicated workers that are stacking pallets at a good speed, but however dedicated they are there is nearly always production time lost on the following:
moving pallets out to the storage area
wrapping pallets
completing paperwork
taking breaks for lunch or to visit the bathroom
stopping to have the odd quick chat
operators palletising slower than the production line can actually run
This may not sound much time, but when you add it up it is a lot more than most realise.
Where Do I Start?
There are many different automated palletising systems available on the market, so we have put together a few key points that you should consider before investing. This will ensure that when you do make your investment, the solution will be able to meet your current needs as well as being flexible enough to cope with any future changes in your requirements.
Futureproof Throughput Capacity
What throughput do you need to achieve currently? What throughput are you looking to achieve in the future? Not only do you need to be sure that the system can meet your current throughput requirements, but it is also important to ensure that it has the necessary capacity to enable you to expand your sales and increase your throughput in the future. The last thing you want is to increase your sales only to find your palletiser has become a bottleneck in your production process! Spend time to think about where your business is heading in the future and ensure you invest in a system that will meet your future demands, or is easily scalable to meet them.
Stack Neatness
Neatly stacked pallets are key to your product reaching its final destination in the best condition. They also make for safer storage, and easier container and lorry loading. With several different methods of automated pallet stacking available, it is important that you choose a method that creates the best stack for your product. There are many factors that affect how your bags will stack best such as how full the bag is, what type of product is in the bag, and how free flowing the material is within the bag. Several systems are available for shaping and flattening bags to ensure that they stack in the neatest possible way. Running a trial of your product on a palletising system before you commit to the capital expenditure is a very good way to determine what the best method is for palletising your product neatly.
Ease of Use
How easy is the palletising system to use? Can it quickly be reprogrammed to palletise different bag or box sizes? Can your staff reprogram it themselves? With some conventional palletising systems it can be very difficult to change the stacking pattern or bag placing positions without support from a specialist programmer. Therefore it is important to ensure that the system you choose has easy programming software as this will enable your staff to reprogram the palletiser quickly and easily. This saves you the cost of having to call out an expensive robot programmer to reprogram the system when you need to change a stack pattern or bag size. It is also important to choose a system that has automatic stack generation software so that you can simply choose which stacking pattern you wish to use without having to spend time planning. Having a system with easy programming software will also ensure that your palletising system is future proof against any changes of product size or pallet type.
Easy To Move/Re-site
Ensure that the system you choose can be easily moved. As your processes evolve over time, the last thing you want is to end up with a palletiser stuck in the wrong corner! There are modular palletising systems available; which means they can be quickly and easily re-situated and reconfigured to a different layout should the need arise. The modularity of these systems also allows you to adapt the palletising process over time by adding further processes at a later date such as pallet shrink wrapping, slip sheet feeding, automated pallet feeding, labelling etc.
Try Before You Buy
For your own peace of mind, make sure you have tried your product on a palletiser before you purchase it. Whilst palletising is a straightforward process, there are many factors that affect how neatly your products stack, and a trial is the best way to establish the best method. There are automation companies that will offer a free trial of your product on their palletiser before you purchase.
Integration With Existing Production Processes
Buying from a company that has experience in machinery integration is key when purchasing a palletising system. A company with this experience will ensure that your palletising process is linked to your production process in the most efficient and effective manner. A reputable automation company will complete a site visit at the quoting stage and will be able to offer advice, guidance and 3D CAD drawings showing how best to install the system. Depending on your production layout and throughput speeds, it may well be possible to install one robotic palletising system to palletise product off two or more production lines.
Calculating ROI on Investment
Typically the payback time for an automated palletising system is very quick as not only do you remove the manual labour element and associated costs, but production can also continue to run throughout break times; thereby enabling you to improve your production speed and throughput capacity. A free robotics and automation resource pack is available for download at www.granta-automation.co.uk/freepack. This pack includes an automation project payback calculator to help you determine your predicted return on investment based on production rates, shift times, HR costs, downtime, etc. Intangible benefits are also something to consider when working out your predicted return on investment as they can have a significant effect on the payback time of your project. An intangible benefits calculator is also included in this pack.
In Conclusion
As you can see, when chosen wisely, an automated palletising system will not only provide the immediate benefits of increased reliability and throughput, but will also service your future requirements. With changing market demands and the ever quickening pace of technology, it is important to ensure that the equipment you choose to invest in is flexible and adaptable enough to cope with these changes without the need for further significant investment.
One of the most adaptable and flexible palletising systems on the market is the Granta GA15 palletising system. It is fast and easy to program without the need for specialist programming skills. The easy programming software also includes automatic stack generation for an infinite variety of products, pallets and stack configurations. Having input the bag or box size you are palletising the optimum stack pattern is shown along with a variety of other stack patterns. All you have to do is simply select the stack pattern you require using the touch screen.
As the Granta GA15 palletising system is a modular system, it can also be simply and quickly reconfigured should your production requirements change. The modularity of the system also results in short lead times and a quick install time.
In summary, here is a quick checklist to use before purchasing an automated palletising system:
Can the system meet current and future throughput capacity requirements
Will the system stack my product neatly
Are staff able to program the system for different bag sizes/stack patterns
Can the system be moved/re-sited and reconfigured easily
Has a trial been run on the system
Can the system be effectively integrated with our current production process
Has the predicted ROI of the system been calculated including the hidden wins
If you would like to discuss this guide in more detail, or would like further information on the Granta GA15 Palletising system, then please do get in touch on 01223 499488 or helpline@granta-automation.co.uk.
Contact us for help with your project
Find out more…
Watch videos…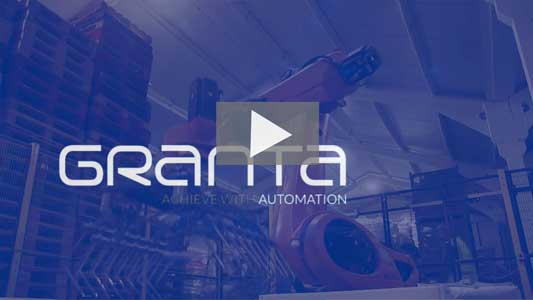 Palletiser application examples…