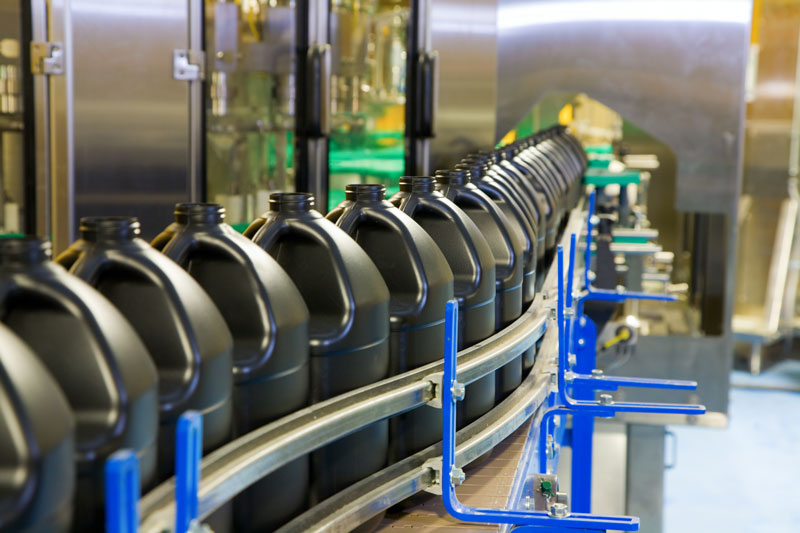 Maintaining an efficient throughput is essential to the success of any manufacturing facility. In order to remain competitive production must be sustained at a certain level to keep a steady flow of goods heading out to customers. Any break or delay within the factory can have a negative effect on the rest of the supply chain, creating delays and complications with clients who might begin to shop around for a better service.
Quickly identifying issues within the production cycle that may be preventing the system from maximising throughput will create an efficient manufacturing process and reduce the possibility of customer complaints. As a brief overview, we are going to cover a number of ways in which you can improve the throughput capacity of your machinery.
Clear the bottleneck
In many cases the easiest way to improve throughput capacity is by analysing, identifying and clearing bottlenecks in the process. Bottlenecks occur when a particular part of the system slows down or underperforms, and effects the speed of the process as a whole. Not all bottlenecks are easy to identify so it may take some time to carefully go through each stage to find where the problem exists. Visit our blog post 'How do I Identify a Bottleneck in My Production Process?' for help with identifying bottlenecks.
Solutions may include adding additional elements to enable more parts to be manufactured. The opposite could also be true; a section or station may need to be removed and be replaced with something that is able to deal with demands placed upon it. Not everything will come down to the actual machinery itself as you will need to strike the right balance between the time, space and cost involved in implementing the solution.
Keep staff trained and motivated
A good factory or manufacturing facility is only ever as good as its staff. That is also true of highly automated operations as the human factor still plays a vital role in its success.
The ongoing training of staff is not only an investment in their skills but a way to improve the quality of work within the organisation. The direct link between this and efficiency on the production line is unmistakable as undertrained employees will not have a full understanding of where improvements can be gained. When staff are engaged with their work and the process as a whole they see how their role impacts the bigger picture. If they are given guidance on how to use the machines and maximise their section of the process, time can be saved and throughput increased.
Implement automated machinery
If a strong business case can be made to purchase and install automated machinery then the improvements made to the throughput will be almost instant. Whether you operate a manual facility or use a semi-automated process, the introduction of automation will always have a positive impact on quality, speed and efficiency.
E-retailers in particular are transforming the make-up of their warehouses to accommodate the fast paced demands required of them. With short deadlines required from the point of order through to the delivery of the product, automated machinery is able to retain quality of service at a much faster rate.
Those in the manufacturing sector are also realising the benefits of automation; improved quality, increased accuracy, instant fault reporting, reduced downtime, and improved traceability are just a few of the many benefits.  Some of the machines that provide great benefit to the manufacturing sector include robotic machine tending and assembly systems and production monitoring and data logging systems and automated palletising solutions. An assembly system significantly improves loading and unloading times, while a monitoring system maximises efficiency by producing detailed reporting on the system during operation allowing you to track downtime and eliminate any unnecessary downtime.  Automated palletising systems allow your manufacturing process to keep running during break times, and reduce the risk of RSI.
Improved quality control
Upon analysis you may come to the realisation that the speed of the production line is not where the problem lies. No matter how quickly your assembly process may be, if the quality of the product is not up to standard you will be facing a higher rejection rate.
The impact created from so much time and money being wasted on poorly made products will soon begin to show on the balance sheet. This will no doubt also have a knock-on effect to the deliveries and keeping up with demand for the product.
These consequences are felt some time after the initial problem begins and there are ways to be more efficient by improving quality control and increasing throughput. Vision inspection systems provide accurate quality assurance to ensure productivity remains high, with less money, time and resources wasted on poorly manufactured products.
Improved use of machinery
Reviewing the process within any facility should be common practice implemented even when the system appears to be running smoothly. Getting the most of your process, whether led by machines or by other means of operation, will create an ambitious culture of maximising the tools at your disposal.
If automated machinery is already running within the facility throughput can still be improved by thinking of ways in which the machines can work together. Rather than using individual machines to complete specific tasks, and creating wasted product movement, there are ways in which custom automation can unify the processes. Even in operations that rely on older machinery, these can still be adapted to work with new technology. The time lost by waiting for the transfer from one machine to another can be reduced, improving efficiency and ultimately generating a higher throughput.
Conclusion
There is no one-size-fits-all solution to improve your manufacturing throughput. Whether you are experiencing issues that are slowing down production, or looking at ways to become more efficient, the suggestions above will give you a strong starting point to begin your analysis.
If you are looking to introduce automated palletising within your business, you can contact one of our automation consultants who will be happy to talk through the options available to you. Simply email our helpline helpline@granta-automation.co.uk, or call us on 01223 499488.
Contact us for help with your project
Find out more…
Watch videos…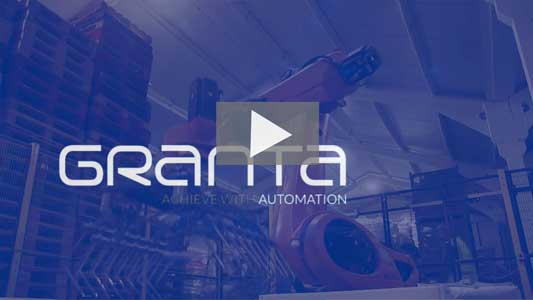 Palletiser application examples…