In a fast and ever developing world, factories need to be able to keep up with increasing demand and higher competition levels, whilst ensuring they improve their productivity levels in order to thrive. This is where automation can help you achieve that as it can be used to boost productivity across factories.
Read on to discover how you can use the power of automation to increase productivity in your factory.
Robotic Automation
Robotic automation is a perfect place to start when looking at increasing your factory's productivity. Implementing robotic automation can help you keep production costs down, while the product quality and the production speed improve, leading to better productivity and higher profits. Automating the palletising of products is a key way to improve productivity.
Depending on the industry you're working on, certain types of robots will be more suitable than others to help you achieve your growth goals. For example, clean room robots are a great choice for medical and pharmaceutical manufacturers, while a vast range of industrial robots are better suited for the automotive and food industries.
Production Monitoring and Datalogging Systems
One way of increasing the productivity in your factory is by choosing the right KPIs for your business, and then using the right tools to monitor performance and identify any areas that can be improved.
With production monitoring and data logging systems you're not just monitoring performance, but you can also use them to increase efficiency by creating a culture of continuous improvement which can translate into better productivity levels. This kind of automation is also a great option if you're looking for ways of increasing staff incentives and keeping downtime to a minimum.
Bespoke Automation Solutions
Another way you can increase productivity is by implementing bespoke automated control systems, created specifically for the particular needs of your factory. Bespoke machinery that is custom built for specific applications has often proved to be a more cost-effective solution for achieving your productivity goals.
Alternatively, if your factory has old machinery that you'd like to still use instead of making a massive investment in brand new machinery, old machinery automation can help you make the most of your existing equipment by overhauling and modernising it.
Streamline Your Production Process
Now that you know what some of the best automation solutions for your factory are, it's time to consider additional ways in which you can take the productivity of your factory further and increase profits. One option is to consider automated machinery integration which can help you streamline your entire production process, whilst reducing production costs and time.
Another way to help your factory thrive in today's highly competitive market is by investing in reliable vision and inspection systems which are great for implementing automatic quality assurance and control, ensuring that you only produce high quality products, without having to spend extra time or labour.
Watch our short video explaining productivity…
 
Contact us for help with your project
Find out more…
Watch videos…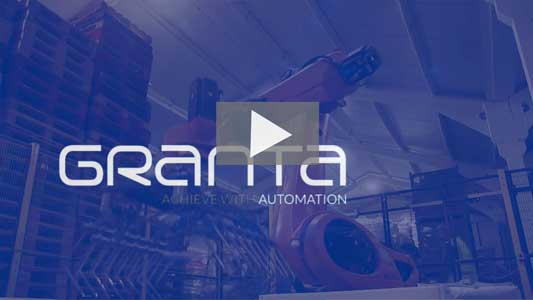 Palletiser application examples…