How Does GA15 Palletiser Work? - Physical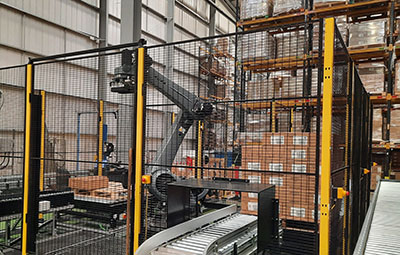 There Are Many Different Platform Options Available
There is a wide variety of standard modular platform options available in the range, with different products on each platform e.g. robot, different types of conveyors, pallet and slip sheet guides etc. Bespoke platform options are also available.
The system can quickly and easily be re-configured, moved or have extra parts added or taken away. The flexibility of this system means that it is very simple to re-configure the system and add extra modules once you have started using it. Altering a traditional palletising system after installation would be very costly.
The different platform module options are shown below.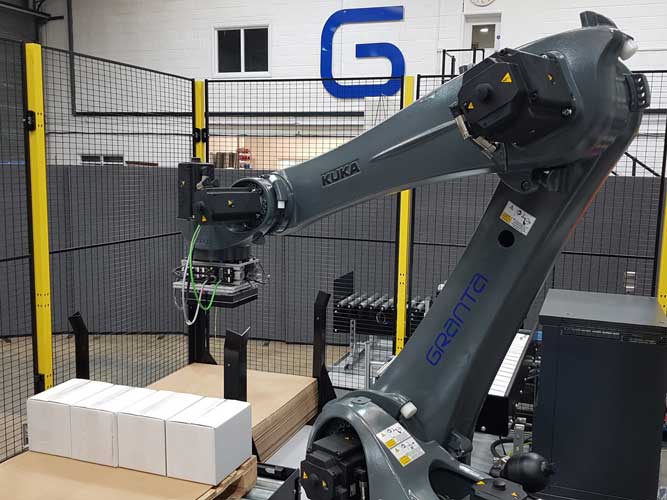 Robot Module
This would usually be a KUKA 5 axis palletising robot but different robots can be used as required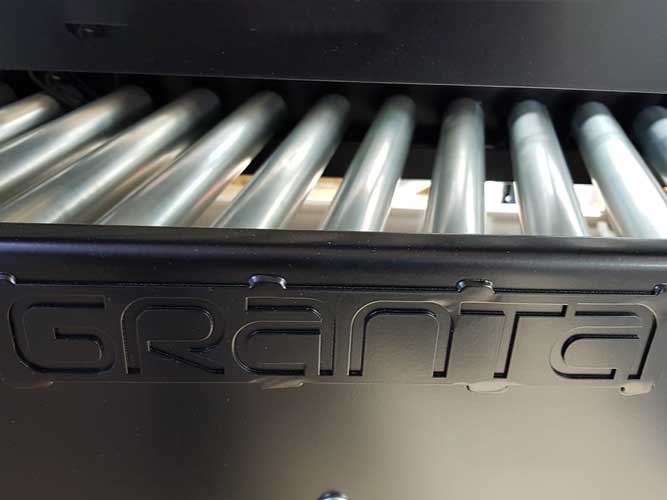 Input Conveyor Module
This has angled rollers that align boxes to one side, then when it comes up against the end stop it is in an exact known position ready for picking with the robot.
Bag Pick and Shaping Conveyor Module
This starts with square rollers and side guides to help distribute the contents of a bag evenly throughout the bag to produce a neater and more stable stack. The second conveyor has accurately spaced slots between the rollers that allow the gripper to pick bags and sacks from it. The pins of the bag gripper go through the slots between the rollers, then lift the bag.
Pallet Conveyor Module
This is a heavy duty, large conveyor which would typically be used for systems with automatic pallet feeding.
Slipsheet Stack Module
This is a module with location horns for loading a pallet of slip sheets into.
Bag Kicker Module
This pushes the base of the bag out to turn the bag from vertical off the production line to horzontal on the conveyor, ready for conveying into the palletising system.
Vacuum Gripper
This is a foam vacuum gripper head for the robot which can pick up pallets, boxes, slip sheets and many other products.
Bag Gripper
This is designed for picking up sacks and bags. It has positioning pins, lifting pins and a centre clamp which is also a vacuum gripper, enabling it to handle pallets.
Control Box
The control box comes with a screen and keyboard and can be mounted anywhere around the outside of the palletising system.
Pallet Position Module
This is a module which has positioning horns on and can be used to put a stack of pallets on to feed the system, or as an output position where pallets are stacked by the robot then lifted off with a forklift.
Bespoke Modules
Modules can easily be integrated with extra items such as;
stretch wrapper
carton errector
label applicator
inkjet printing
barcode reading and scanning
vision systems, etc
How Does It Work? – Programming
The advanced programming software for this system enables quick and easy configuration and programming for any layout of system.
>> Click here for more information