What Are You Looking To Achieve With Robotic Automation?
There are many reasons to invest in robotic automation, including: improving production quality, increasing production speed, automating a process not possible by hand, speeding up a manual process, setting up 24/7 production etc. Granta are robotic automation system specialists and cover all aspects including specifying, designing, programming and installing robotic automation systems.
With robotic automation the return on investment is often faster than ever anticipated due to several factors like improved production quality with less recalls and defects, faster production speeds, and continuous production with no breaks. The combination of these factors usually results in payback less than 2 years and often less than 1 year. Another intangible payback is health and safety, this is becoming a big driver for robotic automation, with many staff and companies wanting to reduce repetitive strain injury issues.
There are many different types of robots and 1000's of different applications where robots can be of great benefit, but the real skill is in optimising the whole system to bring the maximum benefit to your company from robotic automation. There are a lot of aspects to pull together and this is really only possible with good experience and in depth knowledge of robotic automation.
Which robot is best for your application? What automated systems need to surround / work alongside the robot? What does the end effector / gripper need to look like on your robot? What are the safety requirements for your system? These questions and many more all need answering and impact on each other, we work through all of this and much more with you to develop the robotic system that will best suit your requirements and bring you the fastest return on investment.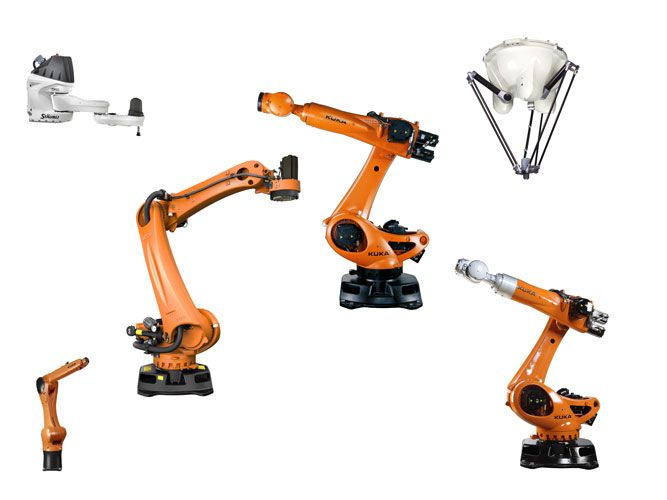 What Robot Is Best For My Application?
There are many factors to consider when specifying a robot for an application. What area is my robot in? Does it need to interact with people and in what way? How fast does it need to run? How many axis of movement are needed? What reach is needed? What weight is being lifted/handled by the robot? How accurate does the robot need to be? What comms are needed? Etc.
>> Click here for more information
What type of end effector or gripper do you need on your robot?
Most robots come with a round flange with bolt holes in and it is the task of the robot integrator like Granta Automation to develop the system that is mounted to the robot. This system that is mounted to the flange of the robot is called an 'end effector' and could be a wide range of different systems e.g. mechanical gripper, vacuum gripper/cup, welding torch system, glue dispensing head, cutting or grinding system etc. ;
Often this is where robotic automation experience and technical skill is needed to specify and develop the best end effector for your robotic automation system. The end effector also needs to work seamlessly with the surrounding automation which assists the robotic automated process for example clamps, conveyors, labelling systems, vision inspection, grippers etc.
Granta have some standard robot grippers available like bag and box grippers but also make bespoke grippers whenever required.