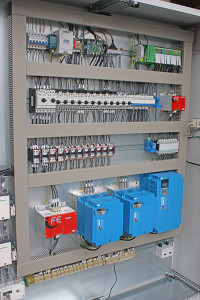 As technology advances and control systems become increasingly sophisticated, so do the regulations and requirements that machine control panels have to comply with, in order to meet safety standards and minimise risk of injuries or accidents.
Perhaps the single most relevant standard for machinery control panels is BS EN 60204-1. This standard deals with general electrical safety inside a control system and provides a standardised convention for wire marking and colouration, as well as providing guidance for HMI screen colours and modern software based controls.
The safety related controls in any machinery must comply with either BS EN 62061 or BS EN ISO 13849-1. These two standards are essentially parallel and designers have the freedom to choose which they use when specifying a safety system. Sometimes thought to be the more comprehensive of the two standards, BS EN 62061 rates every safety related control system by SIL level (Safety Integrity Level) whereas BS EN ISO 13849-1 outputs a safety PL (Performance Level).
Besides these standards, automated machinery, including machine control panels also have to receive their ATEX certification if they are rated as being used in explosive atmospheres, to ensure that the products are safe to use in these specific environments. This is a legal requirement and it is related to the DSEAR (Dangerous Substances and Explosive Atmosphere Regulations) that were put in place to protect people working in hazardous explosive atmosphere zones.
If you are still unsure as to the requirements of a machine control panel, please contact us on 01223 499488 or email us at helpline@granta-automation.co.uk and we will be happy to discuss these requirements with you.