Brief
A British chocolatier and cocoa grower, were looking for a means of transferring chocolate and fillings to their new production line. They commissioned an engineering company to design and build 4 stainless steel, jacketed transfer vessels on castors to enable them to be wheeled around the plant. Each tank required a mixer, electric jacket heating and a transfer pump and valve arrangement to circulate and discharge the contents. It also needed to interface with the machine it was supplying to keep the feed tank topped up to the correct level. Having worked with Granta before on previous projects they turned to them again for the required expertise to design, build and integrate a control system for this bespoke requirement. The control brief was:
Provide control of the pump and valve to circulate the product to maintain its condition and uniform temperature whilst in the tank. This pump was to be two speed to allow a faster flow rate for cleaning the tank out.
Switch from circulation to discharge when the machine called for more product.
Provide control for the lid mounted paddle mixer including lid safety interlocks.
Provide level monitoring to warn of low level condition.
Provide electrical supply for heating control by others.
Result
Granta worked with the customer, the project management company and the engineering company to establish the detailed requirements of the design. Granta then used their extensive experience to suggest and incorporate enhancements to the original design proposal to optimise the ultimate performance of the transfer tanks.
Two major improvements Granta suggested and incorporated were;

Replacing the two speed pump motor with a standard single speed motor and fitting an inverter to allow far greater control of the pump operation.
Incorporating the heating control into the main control system to centralise the settings and allow extra monitoring of temperature as the products require very precise temperature control.

The prototype tank was fitted with the new control system and put into service to evaluate it. This resulted in some minor changes following which the other 3 tanks were built and commissioned incorporating these modifications.
The tanks have functioned well in their duties and should provide ongoing service for many years.
As the tanks were not being sold to another user, there was not a requirement to CE mark them but Granta designed and built the control system to the relevant standards and supplied a CE certificate of incorporation for it.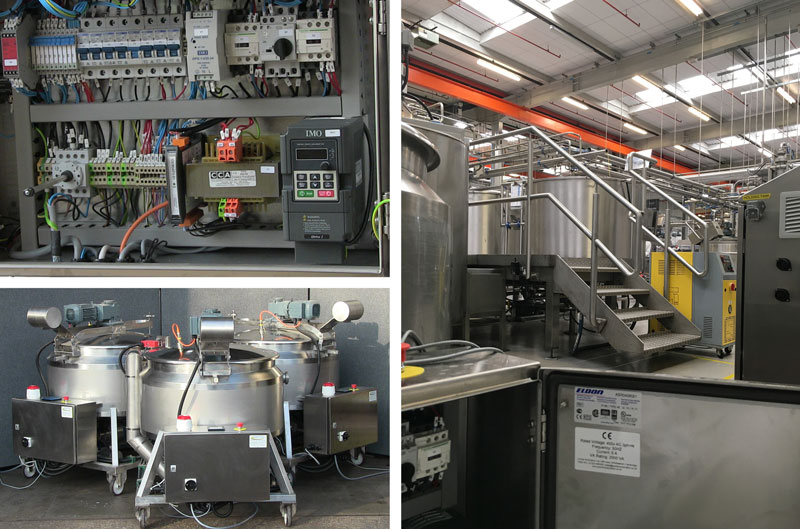 Find out more…