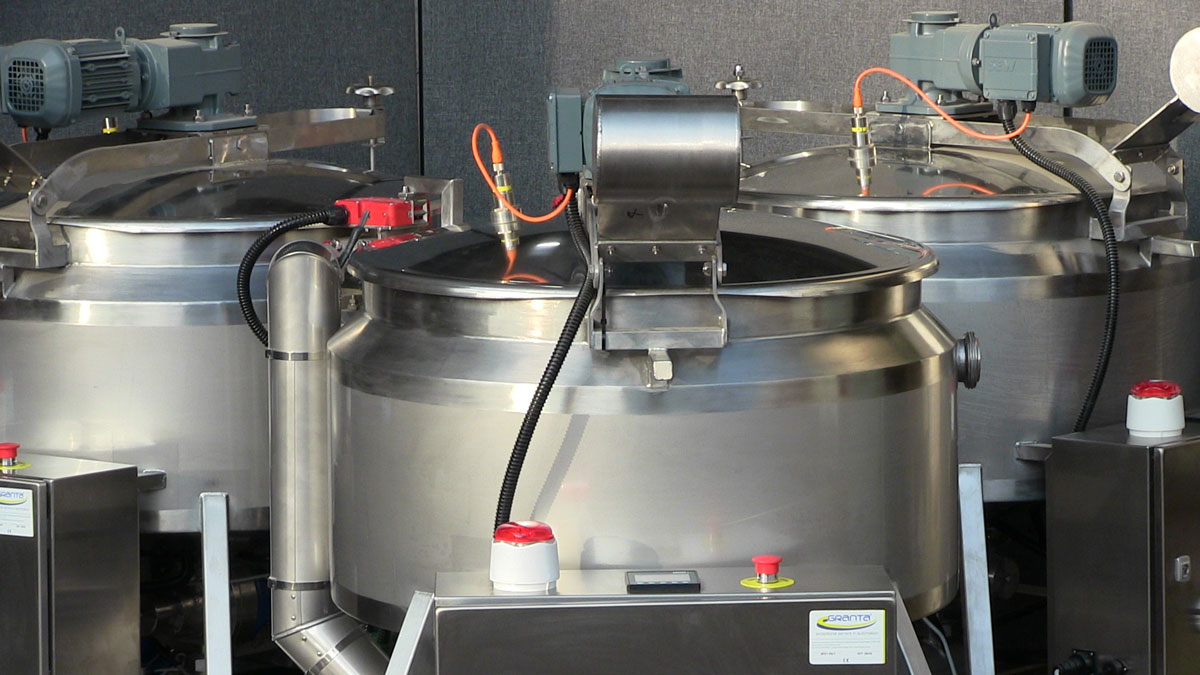 How bespoke can the design be, and what are the cost/reliability implications?
With today's advances technology almost anything can be automated with bespoke automation. Bespoke machinery can be designed and built completely tailored to your requirements bringing many advantages.
Many people are often surprised to find that bespoke machinery is often cheaper, and a better investment, than standard machinery that is already available on the market.  There are several reasons for this;
Standard machinery often only performs some, not all of the tasks needed, resulting in multiple machines having to be purchased. A bespoke machine can be designed to do multiple functions with one machine.
With standard machinery you are often paying for costly unnecessary features.
Bespoke machines are built to integrate with other existing machines in your production process, this means installation is often a lot quicker, minimising downtime in your production process.
As bespoke machinery is custom made it can often be made to be vastly simpler to use (even if it is doing a more complicated process) as it is tailored to your exact requirements.
As with any other type of machinery, a bespoke machine, when purchased from a reputable automation company will be extremely reliable.
Ensure you choose a company that specialises in bespoke automation for the best results. A good automation company will meet with you to discuss your requirements and will include you throughout the complete design, build and installation process.
What level of support and maintenance is required from the manufacturer?
A well-built bespoke machine will require minimal maintenance by the manufacturer.  Any good automation companies offer a service plan which can include maintenance, remote support and 24 hour on-site support depending on the level of cover you choose.
What is the level of disruption to business operations when installing bespoke machinery and training staff how to use it?
Installation of bespoke machinery is often far less disrupting to your business operations than installation of standard 'off the shelf' machinery.  The reason for this is that bespoke machinery is designed and built with integration into the rest of your production process in mind.  Therefore when a bespoke machine is installed, it has already been designed to fit in with your current production layout and there is only minimal install needed to integrate it with your process.  Standard 'off the shelf' machinery will often require on-site modifications to enable it to be integrated into your process, therefore causing greater disruption to your business operations during install.
If you purchase your bespoke machinery from a good automation company then staff training will be included.  Staff training is something that is always necessary whether you are installing a bespoke machine or standard machinery, but with a bespoke system the user interface is tailored to your exact requirements making the training quicker and the system far easier to use.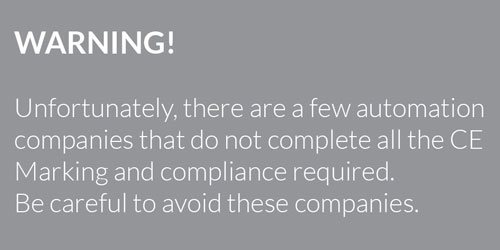 What legalities and regulations are involved when buying bespoke machinery?  (ie. Health & Safety, etc.)
When buying bespoke machinery, it is important to check that the machinery is going to be built to the relevant directives and CE markings.  Your legal responsibilities when buying new machinery for use at work are outlined in the HSE buying new machinery guide, which also mentions that 'When buying a custom-built machine, you can use this opportunity to work with the manufacturer to help them design out the causes of injury and ill health'.  Legalities and Regulations, including CE Marking and Health & Safety Regulations, are something that any good automation company will comply with when building bespoke machinery.
Warning!
Unfortunately, there are a few automation companies that do not complete all the CE Marking and compliance required. Be careful to avoid these companies, a simple test is to ask if they CE mark their projects. You could also try asking for an example copy of the EC Declaration of Conformity and Instruction Manual for one of their recent bespoke automation projects.
How do I establish whether there is a business case for investment?
One of the best ways to establish whether or not there is a business case for investment is to invite an automation consultant from a bespoke automation company to come and evaluate your proposed project.  An automation consultant will be able to advise you on the cost of the bespoke machinery and will also be able to advise you as to whether you can expect to see increased throughput and less defects as a result of installing bespoke machinery.  Increased throughput and reduction in defects both need to be considered along with the capital expenditure when deciding whether or not there is a business case for investment.
What is the life cycle of bespoke machinery?
As with any other machine, the life cycle of bespoke machinery depends on many factors but a typical bespoke machine that is well built and maintained properly will last  for at least 5 years and often 20+ years.
If you have any questions relating to bespoke machinery, please contact us on 01223 499488 or helpline@granta-automation.co.uk and we will be glad to help.
Find out more…