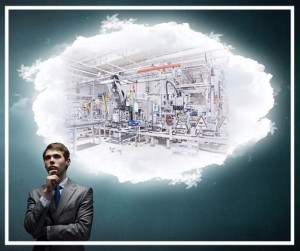 When we hear the words Bespoke Automation, our minds usually turn to the image of machines running by themselves, with little human input.  These machine churn out multiple items – each one exactly the same as the one before.  Every once in a while the machine will emit a low, solemn beep, and the light on the machine turns to red, as it rejects a product that didn't meet the stringent quality measures that the products are being checked to.  Whilst this image isn't incorrect in any way, there are other aspects of bespoke automation that you may never have thought of before.
Motivates Staff
Bespoke automation has been proven to motivate workers.  Not only do the machines make their life easier but it also increases what they can achieve in a day. With the ability to automatically generate live scoreboards from the data that the machine collects as it runs, your workers become motivated by seeing live results of their labours.  Tie this to a reward scheme and it motivates staff beyond any other method. Find out more – How Do I Incentivise And Motivate Factory Staff Who Are Doing Repetitive Tasks?
Reduces the Risk of Repetitive Strain Injury
Repetitive strain injury risks are lowered when bespoke automation is installed.  This is due to the fact that automation removes the need for human input to complete repetitive manual tasks. Not sure how high the risk of RSI is in your factory? Download our repetitive strain injury risk assessment form and find out now. Find out more – How Do I Prevent Repetitive Strain Injury In The Workplace?
Improves Throughput Capacity
Improved throughput is another of the benefits of bespoke automation.  Improved quality, increased accuracy, instant fault reporting, reduced downtime and improved traceability are just a few of the key factors that enable bespoke automation to improve throughput. Find out more – How Can I Improve The Throughput Capacity Of My Machinery?
Reduces Manufacturing Costs
Bespoke automation that has been designed to suit your requirements is able to perform multiple functions with one machine.  This reduces the need to transfer parts between machines and therefore improves production speeds and reduces wasted time and costs. Find out more – 3 Ways To Reduced manufacturing Costs
Boost Productivity and Efficiency
Productivity is boosted by bespoke automation as it increases efficiency, enables greater repeatability, improves product quality and allows for faster, more reliable production speeds.  Find out more – What Impact Does Automation Have On The Working Environment?
Contact us for help with your project
Find out more…
Watch videos…